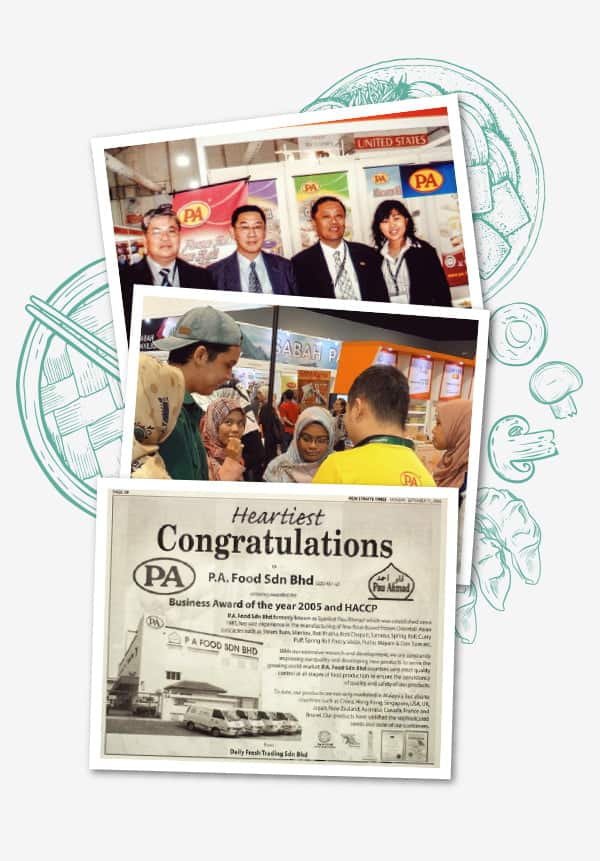 Frozen Food and Pastry with Malaysian Authenticity
P.A. Food is a leading family-owned Malaysian frozen food supplier and manufacturer specialising in Asian flatbread, steamed buns, Asian pastry snacks, sauces and food pastes. We supply to a variety of industries and markets around the world, delivering premium quality shelf stabled frozen food to enterprising food industry professionals and quality-conscious consumers. 

Founded in 1985 by Mr Ding Hong Sing, P.A. Food's spirit of sharing and openness began with Mr Ding's creation of Malaysia's first-ever halal steam bun. Building on his early success, he expanded P.A. Food's offering to Asian pastries, sauces, and a variety of other Malaysian staples.


Who We Are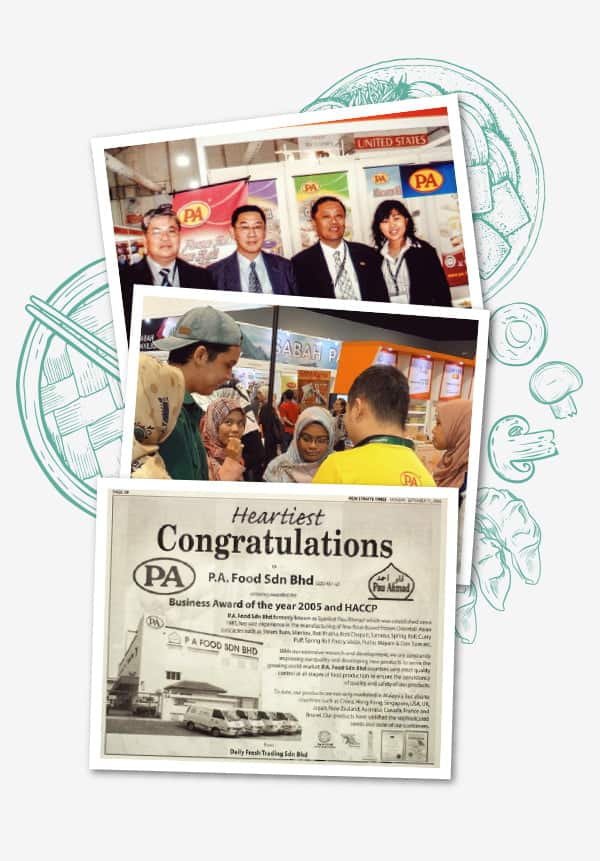 A True Home for
Asian Fusion
We are very fortunate and proud to be based in Malaysia, a melting-pot for Asian cuisine and the heart of Asian fusion cooking. With food influenced by a myriad of cultures, Malaysia surely has a dish for every taste.

Because of this, our central ethos has always been the belief that the taste of delicious, authentic Malaysian cuisine is an experience that has to be shared!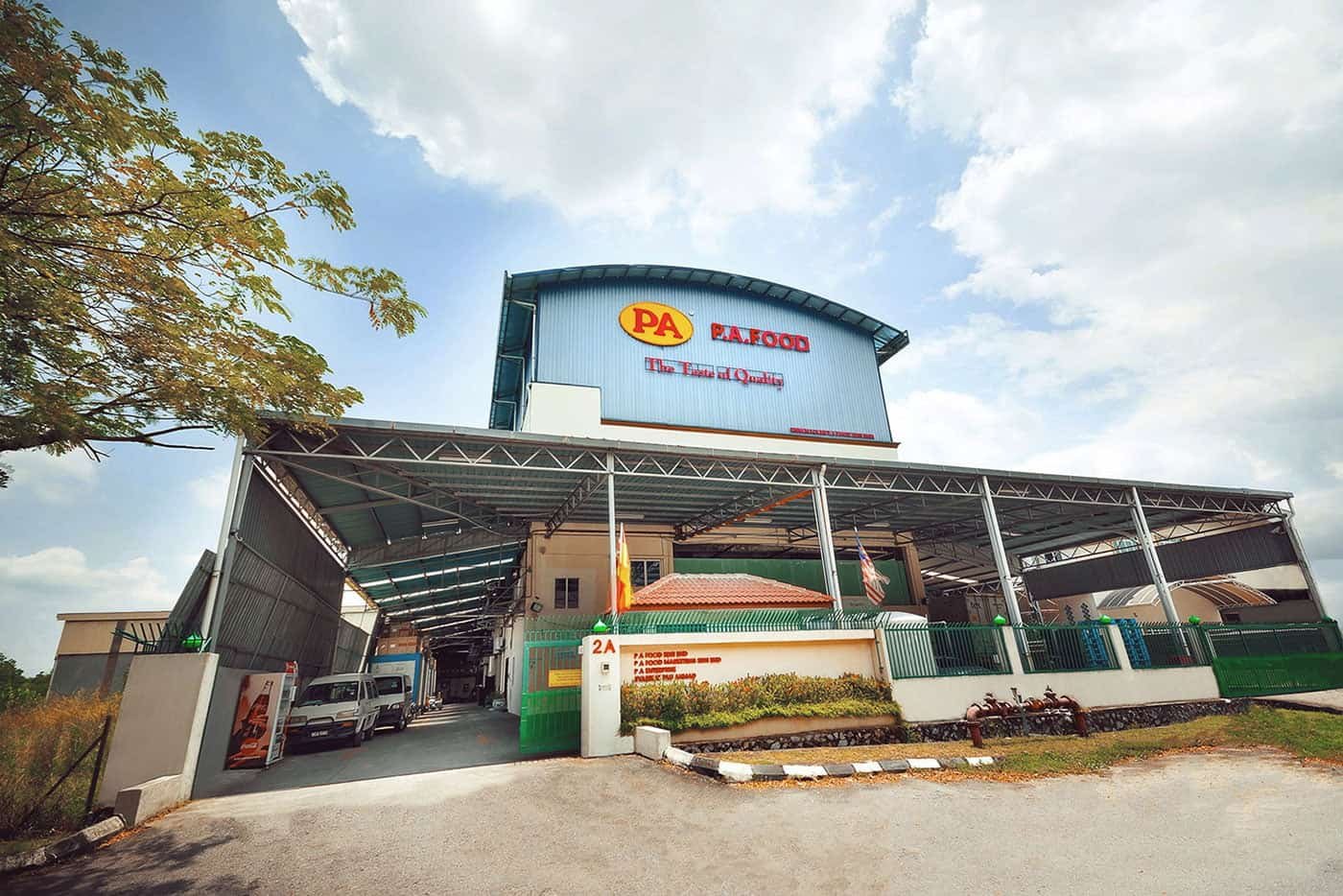 Our Home in Malaysia
Our headquarters and primary factory can be found in the Town of Kajang, ideally situated between the capital Kuala Lumpur and the KL International Airport.
This is where our founder started P.A. Food and first made a name for himself selling Halal Steam Buns to the local community.
Kajang is a town steeped in food heritage, being world-famous for its chicken satay. And like most other places in Malaysia, it is also where you can find a myriad of delicious, authentic Malaysian dishes.
1985
From Humble Beginning
Being a Malaysian born with familial roots in Fu Zhou, China, Mr Ding has always had a deep appreciation for the cuisine of his ancestors. Fu Zhou is a region famous for its steamed buns (known in Malaysia as 'Pau').
P.A. Food's story begins back in 1985 when Mr Ding was having his usual Pau for breakfast when the thought arose on how he could make a profitable business out of his favourite breakfast snack. Just a few months later, Mr Ding launched his own foray into the Pau business.
1985
Innovation and
Perseverance
The business started out with just a few workers in a small shop producing handmade buns and a delivery van. Seeing a market opportunity, Mr Ding innovated on the established Chinese Pau and produced Halal buns for the Muslim market.
Despite reservations from his peers, Mr Ding was determined to make a success of his Halal Pau. And after years of perseverance and many free samples, the halal Pau was eventually accepted by the market.
1987
Automation to
Meet Demand
With growth and increased market demand, Mr Ding Hong Sing drew on his experience working in a high-tech Japanese factory and invested in machinery to aid in Pau production, shifting towards frozen bun production.
Again, despite reservation from his peers, Mr Ding successfully incorporated automation and Pau Ahmad grew from strength to strength.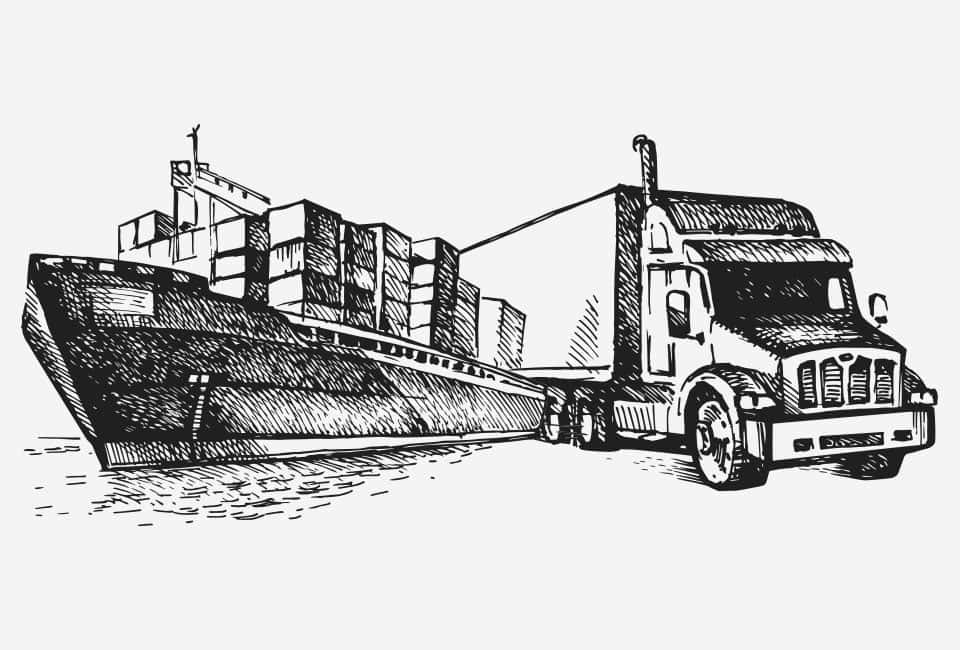 1990
Expanding Horizons
P.A. Food's first big break in the export market came in 1990 when he exported his steamed bun to the Singapore market.
The export market enjoyed his steam bun so much that requests were made for new Malaysian products. This led to the expansion of Pau Ahmad Product Range, which continues to expand to this day.
1995
Global Brand for a
Global Market
In 1995, the 'PA' brand was registered to cater directly to the growing export market. PA expanded on our company values of openness and sharing, with a mission to bring the authentic taste of Malaysian cuisine to the homes of global consumers.
PA proved to be a success and quickly became P.A. Food's flagship brand for global consumers. Pau Ahmad continues to serve local Malaysian consumers.
2000
Meeting Global
Standards
Now with a foothold in the global marketplace, P.A. Food worked to meet the highest levels of global food safety and quality standards, attaining HACCP accreditation in 2006, ISO 22000:2005 in 2010 and BRC certification in 2011.
2013 Onwards
Keeping True to Our Mission
With the launching of brands 'uPastry' in 2013 and 'Dapur Kitchen' in 2016 we additionally launched our corporate brand 'P.A. Food' to be the face of our ever-growing family of brands.
Now we proudly serve our export market with products and brands that cover a variety of Asian pastry and Malaysian staples. Mr Ding's vision to share his favourite breakfast Pau with the world continues to inspire and drive us forward, with his ethos ingrained into the values of the business.