For hundreds of years, Malaysia has served as a rich melting pot of south-east Asian culture and ethnicities. Malaysia's welcoming and tolerant society has long since embraced these multi-ethnic influences and Malaysian food is no exception. Influences from Chinese, Indian, Thai, Arab and ethnic Malay cooking give Malaysian food culture a truly unique edge over other national cuisines and will immediately captivate the taste buds. The result is vibrant dishes with richness, spice, succulence but also freshness. Nowhere else can you find the thick heaviness of Indian curry influences alongside dishes like Cantonese style steam Pau and traditional Malay Keropok Lekor.
It's not just Malaysian cooking that's unique. The open and vibrant communal eating culture of night markets, cafes, Mamak's and hawker stalls has also played a part in shaping Malaysian street food as a national scene. The culture around convenient and cheap meals has produced a more bite-sized form of Malaysian food, which is accessible and equally delicious!
Since 1986, The mission of PA Food has been to share the story and flavours of Malaysian food with the world. Our family-run business has strived to produce fresh, high-quality Malaysian foods that can be frozen and exported. We hope that by explaining the significance of Malaysian cooking and street food culture, we can inform and educate the world about the wonders of Malaysian food.
Religious Influences in Malaysian Food
With such a diverse population of citizens, it is essential to first note the importance that religious beliefs play in the country's culinary identity. With the majority population being ethnic Malay, most of which being devout Muslin may only consume 'halal' (meaning permissible) food that adheres to Islamic law. This has led to a vast majority of dishes being modified to conform to halal guidelines, opening a wider range of cuisine to the Muslim market. Meanwhile, amongst both the Indian and Chinese communities, Buddhism is a significant faith with practising Bud
At PA Food we make Malaysian food products that represent the nation. This is why all our products, including our Pau Ahmad steamed buns and Dim Sum, are prepared using halal ingredients and cooking practices making them suitable for Muslim diners. For our Buddhist customers, we also provide a large range of vegetarian options such as spring rolls, samosas, tofu puffs and vegetarian Lo Mai Gai.
Malaysian Food Heritage

Malaysian food heritage has an identity that is intertwined with immigration, religion, ethnicity and geography, each contributing a significant part to the identity of Malaysian cuisine. The country is made up of an ethnic split of Malays (53%), Chinese (20%) and Indian (6%) but also contains smaller numbers of Thai, Indonesian, Vietnamese, Cambodian, Korean and Japanese ethnicities. These distinct influences play their own parts.
Indian Influences
We see a lot of Indian influence in Malaysian cooking by the way of thick curry sauces made by frying spices as found in mutton and dhal curry dishes. Historically most Indian immigration into Malaysia came from south India and dishes like banana leaf curry, rice, pickled vegetables and fruit are evidence of such south Indian influences. The cow is considered sacred amongst India's Hindu population and so it's common to see more vegetable or fish-based dishes as part of the Indian influence. Ingredients like okra and purple eggplants, brown mustard, fenugreek and curry leaves are typical south-Indian mainstays in Malaysian cooking. However, the biggest influences from the south Indian community in Malaysian food is the use of bread (or roti) like paratha, chapati and naan which are used to dip in curry and sauces as an accompaniment.
Chinese Influences
Chinese influences in Malaysian food tend to be very eclectic but like Indian food, represents cooking traditions of the southern Chinese regions where most immigration came from. Therefore, you'll find more Cantonese and Fujian influences in Malaysian food as opposed to the Shandong style of cooking, for example. Using noodles, bean sprouts, tofu and soy sauce are commonly used in popular Malaysian dishes like curry laksa, curry mee and a variety of 'Nyonya' (ethnic mix of Chinese and local Malay) dishes which comprise a Chinese origin with a Malaysian influence.
Ethnic Malay Influences
At the heart of Malaysian food is the cooking traditions of the ethnic Malays who make up the majority of Malaysian society. Ethnic Malay food is steeped in tradition and has been influenced by neighbouring island countries in all directions including Indonesia, Thailand and Singapore. In the 15th century, the Malay peninsula became a spice trading hub where merchants from all over the east and even Europe would come to trade. Ethnic Malay food can vary depending on the region. For instance, northern dishes like Nessi Lemak comprise coconut cream, rice, cucumber and fish, and are generally lighter. In southern regions like Negeri Sembilan, dishes like beef rendang tend to be more rich, thick and heavy.
Many Malays practice Islam and can only consume halal food that doesn't contain pork. This means that a lot of Maly dishes centre on fish caught from Malaysia's coastlines. Keropok Lekor, a popular cracker made from mackerel and starch, is a perfect example of this. Sambal is also a popular fish-based aromatic sauce containing spices, shallots, chili lemongrass and garlic. In addition, Malay Otak Otak is a much-loved fish cake made from ground mackerel and spices wrapped in a banana leaf.
Malaysian Street Food Culture
The social aspect of dining is a huge part of Malaysian culture and in big cities like Kuala Lumpur or Penang, street food is an especially mouth-watering spectacle. Eating culture is very much a 24 hour a day pattern where food outlets serve up tasty quick dishes for a reasonable price, with Indian Mamaks making up the later hour offerings with their near 24-hour service. The open-air street food culture is so popular in Malaysia because it allows Malaysians to have a choice of eating what they want and when they want.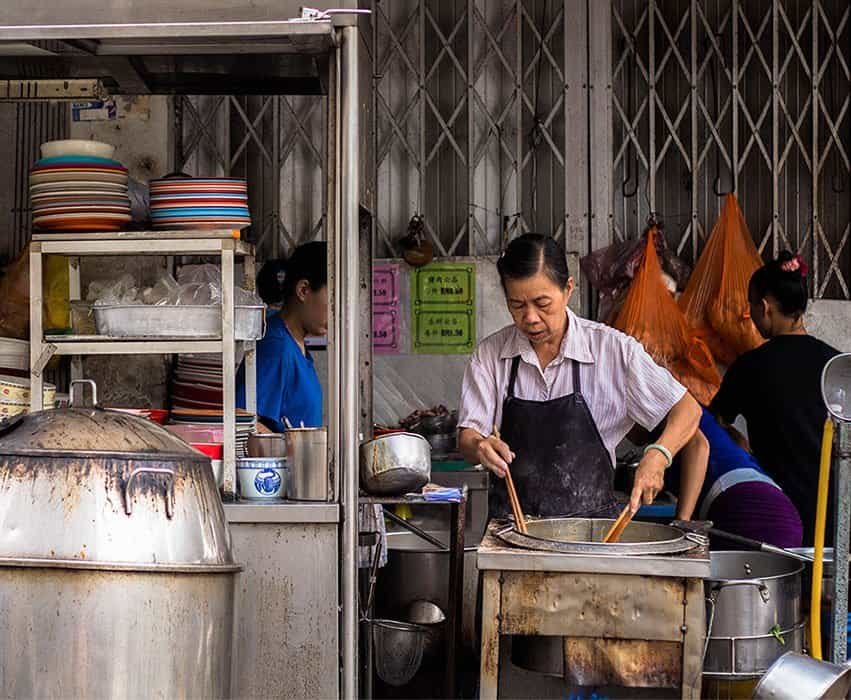 Hawker Stalls
The hawker stall is the name given to a street vendor who serves up various street food to passers-by. Hawker stalls are low maintenance, small and easily transportable and plentiful whether you are at a roadside, in a city or a village. Most Hawker stands are only big enough to serve a small number of dishes but it's this skill of perfecting a small number of basics that earns them a reputation amongst locals and tourists alike. The quality and reasonable cost of hawker food mean that eating out or on the go is very popular in Malaysian culture.
Hawker Centres
The Hawker centre is a collection of Hawker stalls set up in a food court-like arrangement. The centres usually have a selection of different stalls similar to a market but with a central seating area where diners can sit and enjoy their meals. Music from live bands is sometimes included as a part of a Malaysian hawker centre and this creates a fun and ambient atmosphere. What makes Hawker stands so unique is that you can pick out a selection of dishes from multiple stands and create a banquet-style fest. This is especially great if you are with a group of people.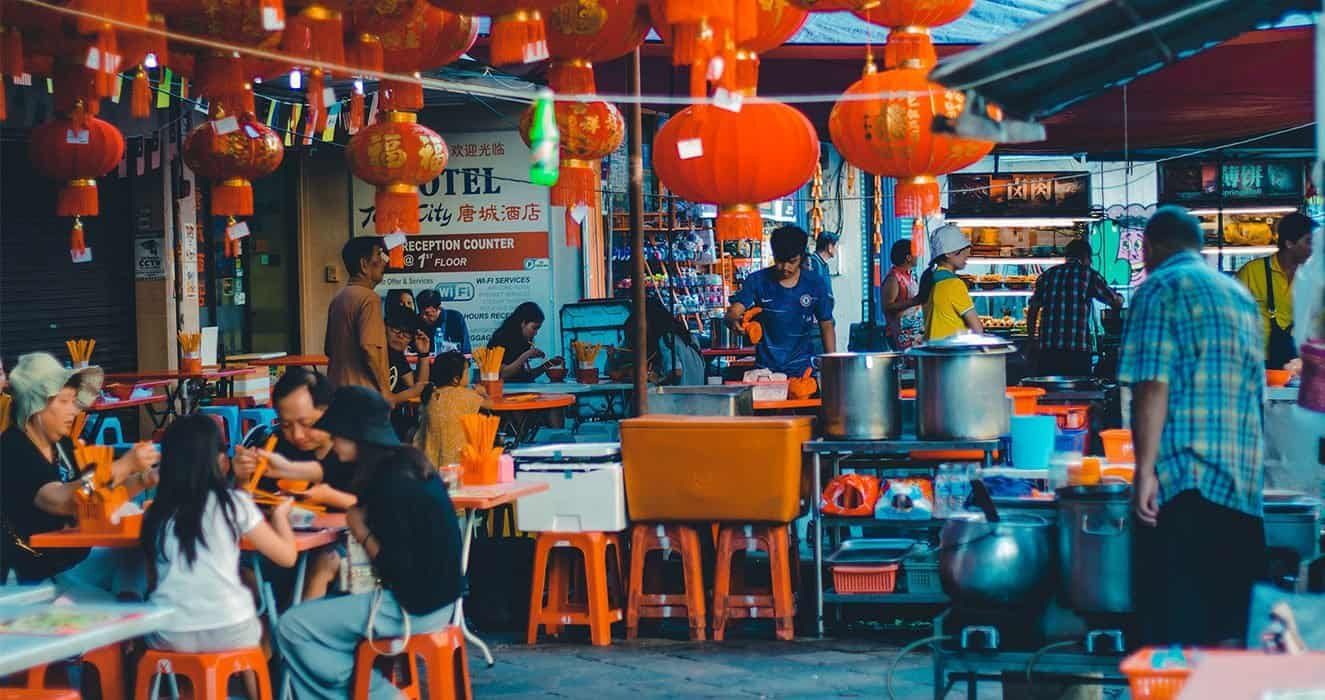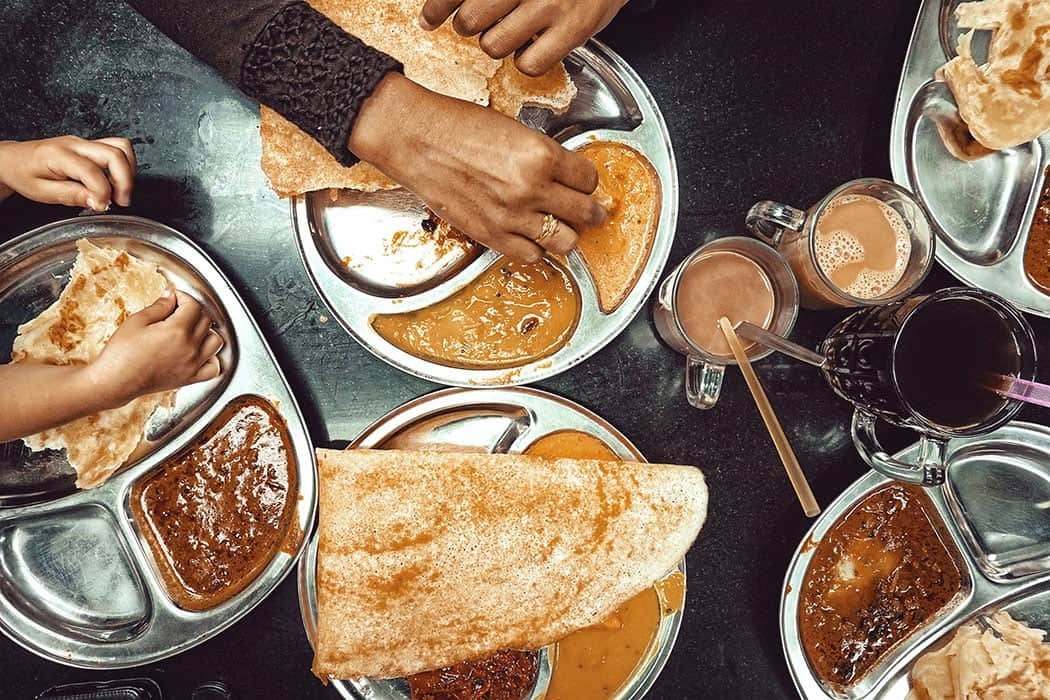 Mamaks
Mamak's are a uniquely Malaysian fixture and can be found on the streets of most big Malaysian cities. These small stalls are a place for people to congregate, chat and socialise whilst enjoaying a drink or something to eat. Roti Canai with dhal, Nasi Lemak and Mee Goreng are some of the commonly served Mamak style snacks along with coffee, milo, Teh Tarik and other soft drinks. In fact, at PA Food we created a special Roti Canai in the authentic Mamak style. Very much part of the Malaysian nightlife scene, Mamak stalls are open around the clock and provide small plastic tables and chairs for patrons to use.
Night Markets
Night markets are a common occurrence around Malaysia partly spurred by the yearly night food festivities around the holy month of Ramadan. Besides Malaysians generally prefer to go out after sunset when it's cooler. At these markets, you can expect to find a wider array of food options on display from all around south-east Asia.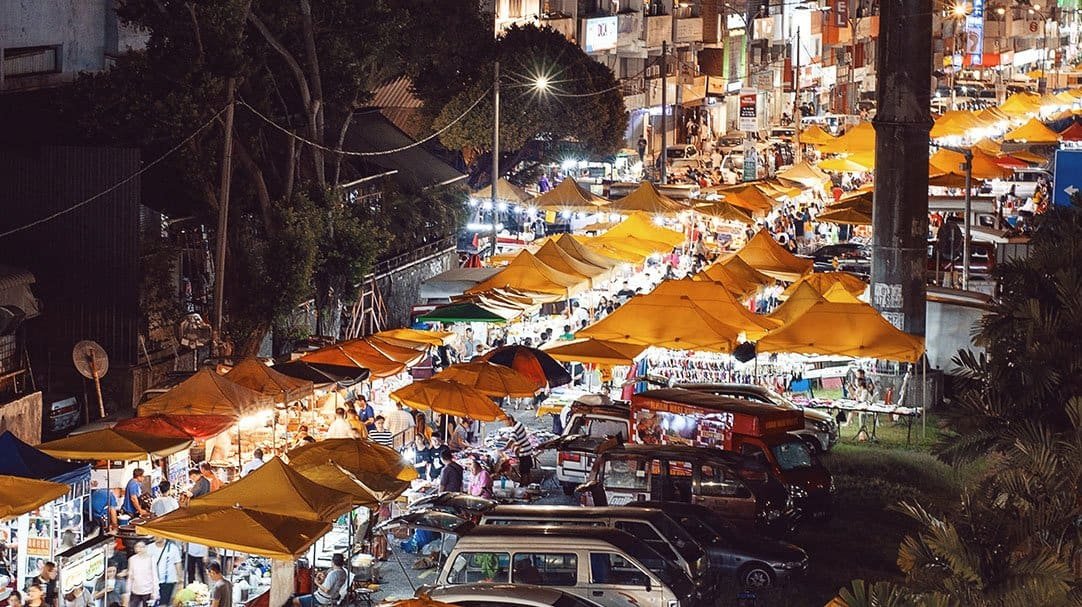 Enjoy Malaysian food culture wherever you are!
At PA Food we want as many people to enjoy the delights of Malaysian food culture as possible! As a respected national business, we've built up a reputation for authenticity and quality. For more information on exporting PA Food products, browse our ranges or contact us today!
Share :